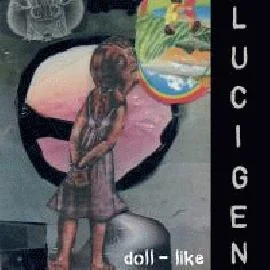 Lucigen
Жанры

Адрес страницы

Участники

Евгений Александрович Викторенко Промоутер
MoRRoN Владелец страницы

Сайты

Пресса

"Lucigen blasted through their set, pushing their amps as loud as they could go while still maintaining a stable sound." -Joe Martin of For Satellites "'Xylomancy' shows a maturity that few bands are ever fortunate enough to exhibit and I predict a bright future for this band if they continue down the path of originality that they are currently on." - Mark Fisher of 1340mag.com

История

Lucigen, a fuzz rock quartet from Morton, IL, plays an uncommon but incredibly potent mix of industrial, grunge, and ambient. Emerging in the spring of 1996, the original trio of guitarist/vocalist Thom Murray, drummer/vocalist Brandon Ousley, and bassist Jesse Oliver started off playing local clubs and parties. Later that year, Lucigen released Sigma Seven, a demo-quality cassette consisting of fifteen lo-fi noise-pop songs. The following release, Lucigen/Dying Breed, was released in the summer of 1997 and featured seven Lucigen songs that showcased darker, more sample-heavy atmospherics than the first demo. The summer of 1998 found Lucigen releasing their first compact disc, Blue, Grey, Black and Empty, to mixed reviews. Conceptual in nature, the album combined sappy love songs, abrasive grunge, and nightmarish sound collages, and then glazed the whole mix over with a sort of documentary-style ennui. "We were toying with the idea of mood disorders," Ousley would later state. "The approach was to get some cool songs, put them in an enjoyable order, and then spill lengthy chunks of noise in all the wrong places." In 1999, the band recruited Dave Webb to play bass after Oliver unexpectedly left the band. The new trio debuted on record with Painted Smile. Fusing android guitar squalls, searing bass, unorthodox drumming and schizophrenic vocal tantrums, Painted Smile found the band exploring new vistas of sound (as evidenced in the spoken-word dirge of the title cut and the final cadence of "Weather-Beaten Angels"). 2001 brought a new member, multi-instrumentalist Brandon Jones, and a new cohesiveness with the release of their third CD, Xylomancy. Taking roughly six months to finish, and engineered by the band themselves, Xylomancy found Lucigen attempting to explode all boundaries to their sound. Stomping power chords, buzzing bass, hard-hitting choruses, and distorted, off-kilter grooves provide a dizzying backdrop while refined melodies and catchy vocal hooks offset, drawing the listener closer to the chaos. Haunting, claustrophobic, and devastating, Xylomancy is the sound of a band coming into its own - and the effect is revelatory. Lucigen just finished touring the West Coast and are currently playing locally and recording new material. A new Lucigen album is expected to be released in Spring 2004.
Обновлено 20.04.2004