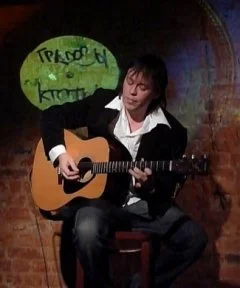 The blues of broken dreams (A.Ladygin)

The song that I composed in 1997 and play often in the concerts. This is one variant of improvisation part because sometimes I play it in the different way!) Th...

Night City Blues (A.Ladygin)

The old blues composition that I wrote in 2005 with beautiful places of Saint-Petersburg!Guitar & Music Aleksey LadyginArrangement Michael Kupriyanovalekseylady...

So Different Guitar (2011)

My album of 2011 that includes old and new things! My compositions Paganini, Ave Maria, Fuga, Several warm days in February, Rain in rithm of Flamenco, Autumne ...

Love long as night (A.Ladygin)

Not so good video but there`s something in this piece I hope, especially it seems to me that the middle of this song is interesting with its harmony!) What abou...

Ее Величество Муза! (А.Ладыгин)

I composed this song in 2004, the recording is made in 2013. This composition is my old dream and it`s thanks to my friend Michael Kupriyanov who helped to make...

Freelancer (A.Ladygin)

My old song that I composed more than 10 years ago, but I recorded only now with help of talanted arranger Michael Kupriyanov!

Sunny (B.Herb) jazz-guitar version

Very beautiful and legendary song of Bobby Herb written in 1963 from my new guitar album "Jazz Land", that today as the other tracks are in radio rotation in US...

Обновлено 30.03.2021