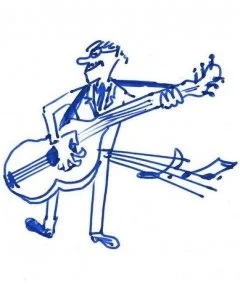 Раненый ангел

Картина Хуго Симберга "Раненый ангел" Музыка Сергея Ковчика "Ангел умер". Смотреть и слушать в лучшем качестве: http://www.youtube.com/watch?v=AoBwKosFEZI...

Дождь прошел (Очищение)

Автор - Елена (TheKrox19645) Сергей Ковчик - музыка, Josephine Wall - изображение. Смотреть и слушать в лучшем качестве: http://www.youtube.com/watch?v=Tm...

00:03:34

1 322

1

1

10 лет

Приключения динозаврика Грини

Видео - Елена (TheKrox19645); Сказку придумали и нарисовали - Оля Тележкина и Лена Маленькая; Музыка - Сергей Ковчик; Читал - Александр Синица http://www....

О многих шестиногих...

Автор - Елена (TheKrox19645) Xудожник - Воронцов Л.Э Музыка - Сергей Ковчик "Идиот и дурочка" Смотреть и слушать в лучшем качестве: http://www.youtube.com...

Сальвадор Дали. Живопись

Автор - Елена Замятина, Музыка - Сергей Ковчик Смотреть и слушать в лучшем качестве: http://youtu.be/SL6dzyhDrWs...

Борис Кустодиев. Живопись

Автор - Елена Замятина Музыка - Сергей Ковчик. Смотреть и слушать в лучшем качестве: http://youtu.be/YzEcOMmqLjw...

Полярное сияние

Автор - Елена Замятина, Музыка - Сергей Ковчик, Фото - Бормс Аргуиов. Смотреть и слушать в лучшем качестве: http://youtu.be/Y_q_mMGKhSM http://video.mail.r...

La Terre de Luna

Un projet du GRAD-S et de Marc Galvin Realisation, montage : Jeremie Lasnier Marionnettiste : Eric Poirier Dessins : Benjamin Ben Kemoun et Cassandre Poirier...

Matchmaker Cat - Speedpaint

A gift for FrostbackCat on DA aka Catwhohas14tails/Catwhohasachannel on YT. This is inspired by her valiant efforts to make her two cats in Pets5 make a kitten ...

САМИЗДАТ (10-летию журнала посвящается)

НАД ФИЛЬМОМ РАБОТАЛИ: Павел Курышев, Наталья Онищенко, Александр Красников, Михаил Кубасов, Ирина Зимина, Рвухина Елена. МУЗЫКА: Сергей Ковчик Композиции: "Вече...

Lighting The Dark

International Protest against the Great Britain Greyhound Board Gala Sunday 26th January 2014 Manchester Hilton Hotel h.16:00 Bring a source of light with...

Bird feeder

Bird feeder - Billingstad 2014 Music: Raindrops - Sergey Kovchik https://www.jamendo.com/en/track/1070489/raindrops

VladimirOlenberg

Imagenes de cuadros con movimiento del artista Olenberg. La musica es de Sergey Kovchic.

What the cardinal Saw (May2012)

female cardinal. Music from Jamendo by Sergey Kovchik \'Sunset light (Consolation)" http://www.jamendo.com/en/track/859217/sunset-light-consolation

Drama of a single body

Testing the dummy for a drama. By Melina Curi Music: Sergey Kovchik 'Halftones' Special thank you: Agnieszka Prus (assistant) and Barbara Host (body) DUBL...

The Ten Pound Note

An absolutely old, but brilliant classic comedy sketch which is guaranteed to raise a laugh at the end! Main music score: Unnecessary man by Sergey Kovchik

Добрай Ночы

Телеканал "Беларусь 4 Могилев". Заставка окончания передач. В кадре - исторический центр Могилева, городская ратуша. Съемка и монтаж - Валерий Еремин. Компо...

Jumana Mattukat: Mami, ist das vegan?

Buch: Mami, ist das vegan? Ein Erfahrungsbericht. ©2013 Bielefeld Kamera & Schnitt: Markus Pramassing Idee & Regie: Marco Ammer Sprecher(in): Benjamin Hort...

Rapeseed Rhapsody

A leisured walk through the fields near where I live inspired me to this creation in dazzling yellow. The mass cultivation of colza sure enough is not undispute...

Sammy Disney

Samuel Stender goes to Disney Land. Music credit to Sergey Kovchik for The little Caterpillar

El vampirillo Roberto

Texto: Fernando Rubio Perez. Musica: Sergey Kovchik. Narracion: Javier Merchante. Ilustraciones: Javier Grau.

Kite Festival 2013 - part III

2nd Day at the annual Pacific Rim Kite Festival on Vanier Beach in beautiful British Columbia. Music Credit:"The Little Caterpillar" by Sergey Kovchik (http://...

Kurzfilm: Der Kartograph

Некоммерческий фильм немецких студентов. Использован трек Вечерние крыши http://www.realmusic.ru/songs/1034494...

Butterflies in my Summer Garden

Butterflies - or had they better be called Flutterbies - are always welcome in our garden. We made it a point to plant the shrubs and flowers they like so on wa...

Stop motion

music by Sergey Kovchik - Unnecessary man https://www.jamendo.com/track/1122059/unnecessary-man

Sunset, river and a Drone

It was sunset and I was driving towards Nautela Rapids at Lieto, Finland. Time was not on my side since the sun was setting already. I was able to catch the ver...

Sherlock Holmes, A Case of Identity

Time lapse painting, Sherlock Holmes, A Case of Identity, illustration, oil painting, 70 x 100cm Illustration: Julo Nagy, www.julonagy.com Music: SERGEY KOVCH...
Обновлено 17.05.2018