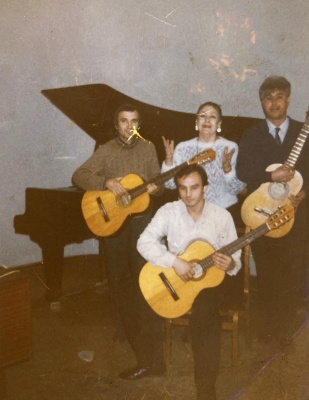 Golubeva Alexandra Babaevna-Honored Artist of the TSR
Date of birth: 1937 August 26 (USSR Kamchatka Territory)
Date of death: 2010 April 02 (Ashgabat, Turkmenistan)
Higher education: Turkmen State School (Solo singing) -1965
Artist of choir and ensemble teacher in O. G. piano vocal. -1969
Reg:335 No. 678406
1955 Turkmen State Theater Opera Ballet (Chorus artist)
1965 Turkmen State School Secretary of correspondence and evening departments
1969 Turkmen State Philharmonic Society-position Soloist-Vocalist
Awarded in connection with the 59th anniversary of October for achievements pr. 259 1976
1980 Turkmen Institute of Arts Inspector
1989 Turkmen Conservatory soloist-vocalist
1990 Established as the highest category of soloist vocalist
Diploma of 1965 for active participation in amateur art and high skill
From Major General P. Plotnikov and Nach. Political Department of V. Koltashov USSR
№ 2040
Certificate of Honor-USSR for conscientious work at the Department of Special Piano and the State Pedagogical Institute of Arts
1974 Certificate of Honor from the Ministry of Culture of Belarus of the BSSR
1978 Certificate of Honor "For our Soviet Homeland" for active military-patronage work among border guards and in connection with the 60th anniversary of the border troops of the USSR
From the Chief of the troops of the Red Banner Central Asian Border District of the KGB under the CM of the USSR
MAJOR GENERAL KARPOV 1978 No. 3210 G327974
Golubeva Alexandra Babaevna was married to Golubev Vladimir Kuzmich (navigator of the 1st class in the USSR) a veteran of the Afghan War
Golubeva Alexandra Babaeva had a rare thin SOPRANO vocal
She performed Folk songs and Russian romances as well as most of her recordings were Gypsy songs and romances and an Italian song.
Golubeva Alexandra lived a hard life lived the war and was happily married until the end of her life gave a lot of charity concerts to veterans of the Second World War and orphans and many others she made a great contribution to the musical culture of Russian romance.
Her voice remained unique and special until the end of her life and as long as her songs sound like any other artist who sang and wrote with all his heart for our great people THEY ARE ALIVE!